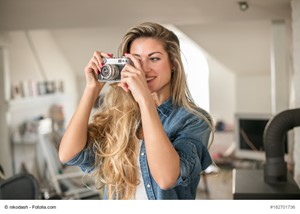 There's a misconception many home sellers have that may be causing them to miss out on opportunities to have their house sell more quickly. Perhaps you're among them.
If you believe your home does not need to be staged, neatly organized, and thoroughly cleaned well in advance of the first scheduled showing, then you're overlooking one crucial step in the marketing process: having professional quality photographs taken of your home -- inside and out -- and posted online to make your listing more enticing!
Unless you happen to be an exceptionally good photographer with professional equipment, you probably won't be able to get the optimal results needed to show off your home and attract buyers. Not only will those photographs be the first impression of your home that many buyers are exposed to, but it may end up being the only impression they come away with. If prospects don't like what they see online, there's no chance they'll move on to the next step, which would be scheduling an in-person visit. That's why it's so important that the photos your agent uploads to the Multiple Listing Service (MLS) depict your home in the most favorable way.
Online photographs can work either for or against you, depending on the quality of the photos and the condition of your home and property. Ideally, you should have photos taken of virtually every nook and cranny of your home -- with the exception of areas you want to underplay. Only the best ones would be used, of course. Views of your front yard, backyard, and sometimes even an aerial view can help give buyers the perspective they're looking for.

The good news is that most real estate agents work with one or more professional photographers who make it their business to take photos that are properly lit, effectively cropped, and well composed. Experienced real estate photographers can quickly identify the most advantageous angles from which to take photos, capturing the best view of your rooms, your yard, and other property highlights.
While they might occasionally make a few adjustments to the placement of furniture, pillows, or other decor, their main objective is to snap photos that will inspire prospective buyers to envision the beauty, the charm, and the many possibilities of your home. In addition to making sure the photos are crystal clear, well lit, and visually appealing, photographers also aim to make your home look as spacious and welcoming as possible. While they can't perform miracles, a talented photographer will typically find creative ways to bring out the best qualities in any home.

Your real estate agent can also give you valuable tips on enhancing your property's curb appeal, minimizing clutter, and adding simple touches -- both inside and out -- to maximize the warmth and appeal of your home for sale.